Your onlineshop for modeling figures in 1:35
We offer a wide range of model figures and accessories, especially in the field of military modeling. You want to bring the era of the Second World War in 1:35 scale back to life, then you will find everything you need for your favorite hobby. In addition to complete sets and figures, we carry a particularly large assortment of heads and hands, for resin figures in 1:35 scale, so you can additionally individualize your sets without having to compromise. In addition, we offer figures, both Union troops and Confederate from the American Secession War, as well as figures in 1:16 scale.
In addition to well-known manufacturers such as Evolution Miniatures, PanzerArt and Alpine Miniatures, you will also find exclusive figures from the manufacturers Bravo*6, Stalingrad, LiveResin, Soga Miniatures and many more.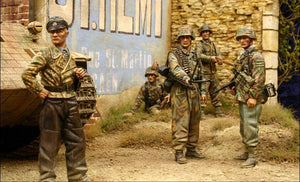 Military modeling - time period WW II
We are your competent partner for WW II model figures. You will find historical figures, vehicles and Diorama accessories in 1:35 scale.
We offers sets for the Wehrmacht, the US forces, the Russian army and many more. Suitable to this, we have paints & brushes on offer, which you need for the respective models.
In addition, we also offer modeling figures that you can only get exclusively from us.